Magazine
Living in her time
TISHANI DOSHI
Remembering Chandralekha whose dance was more a lifelong quest to know the body.
---
She was not just a choreographer or a dancer or a poet or an activist or a painter. She was a lover of trees and flowers, of the sun and the moon, the sea and the sky, the shy mongoose and the intrepid kingfisher.
---
PHOTO: THE HINDU PHOTO LIBRARY

EXPLORING THE BODY: Chandralekha was interested in openness.
A FEW years after I began working with Chandralekha, she asked me what my idea of her had been before meeting her. I told her the truth; that she terrified me. It was the hair, the eyes, the bindi. It was how she was so small, yet so big. How she was fierce and intimidating and overwhelming up until the moment she shattered her own image by laughing. When she laughed, she lost all her cultivated ferocity and became child-like again, a schoolgirl, a stream.
How do I begin paying tribute to this child-woman who loved the word alabaster, whose favourite mango was the Malgoa, who moved her toes to Bharatnatyam talam while she slept, who was inordinately proud of her "undrunk" breasts, who went to Woodstock and felt the grass moving under her feet, who found vitality in strangers and sexuality in water and made family of friends and thought children were little terrorists? Should I describe how she changed my life? Attempt to get at the essence of the work she left behind? Talk of the body and spine — her two great metaphors for the universe and emancipation?
Or should I begin at the end and tell you about the day we took Chandra's body out from her house of swings by the sea? It was like a jilted lovers' convention, each of us with our own special store of conversations and images, unable to console each other because we were too busy consoling ourselves. Our loss. Our Chandra.
And how surprising then to see the vast numbers of us. How jaded to realise that we weren't so exclusive after all. That like Krishna, Chandra had multiplied herself so many times to dance with whomever she chose. Each jilted lover remembering their own defining moment of their first meeting with her, the point they allowed their life to change.
I remember mine well. I was 26-years-old, foreign-returned, aspiring to write, travel, and live in the sun. Chandra clasped both my hands and said how lovely to meet you, but in reality she was shaking me of all my convictions, telling me that a woman was nothing without politics and sexuality, forcing me to reconsider the world.
She was inviting me to journey with her; transforming my fear into curiosity; entreating me to accept this place as the new centre of my life, to relinquish other activities in order for this to thrive, to embrace it as though it were life-giving. And I did. And it was.
Canvas for her creation
PHOTO: DASHRATH PATEL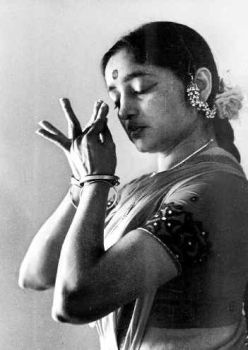 TRAILBLAZER: In different moods.
When I began working with Chandra five years ago, I came with no formal background in dance, no physical training other than rudimentary yoga, no learned postures, idioms or traditions. Chandra savoured this fact — that I was a "non-dancer" — someone whose body was a blank canvas for her creations.
It didn't matter that in dance years I was a dinosaur; Chandra wasn't interested in youth or expertise, she was interested in openness. "I would tell my dancers not to think of themselves as young," Chandra once said, "But to think of themselves as the ancient women of this land. There is so much to know here, to possess."
In a sense, Chandra's work wasn't concerned with dance at all. It was a lifelong quest to know the body: to decipher its many beginnings and endings, to contextualise the body in terms of space and time, to recognise the body as a source of unlimited energy and to nurture it as a medium to connect with nature, society, the cosmos.
It was only through this understanding of body that she believed we could understand the business of living and reconcile the tensions between tradition and modernity, inner and outer. It was through the body that she chose to find a new vocabulary for expression in our times.
Making connections
PHOTO: OLIVER BAROT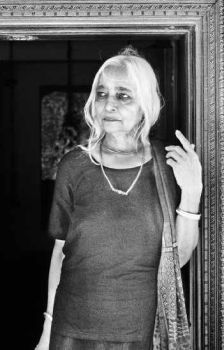 In our times — Chandra's most oft-repeated statement. What are the times we live in? How do we find time? Where do we look? What are our references? What do we do when the earth, the water and the air have changed, leaving us only with ruptures? These weren't questions restricted to her dance explorations, these were questions she asked everyone who entered her radius. These were the connections she sought to make: science, art, life, music, language, breath.
Chandra believed we could heal these ruptures with the body undivided, by moving away from literal narrative and arriving at sublime abstraction. She believed in the geometry of the body, of the circles, squares, mandalas, yantras, pulsating bindus and exploding triangles each body contained.
Writing now, a few days after her passing, I realise that any discussion of her "legacy" is bound to be tentative because Chandra despised institutions, labels and definitions. She wasn't content to be a guru with people diving at her feet and admiring everything she said. She was far more difficult and demanding than that. She wanted to be your friend, lover, parent, sibling, ancestor, child. She was not just a choreographer or a dancer or a poet or an activist or a painter. She was a lover of trees and flowers, of the sun and the moon, the sea and the sky, the shy mongoose and the intrepid kingfisher.
A few years ago in Japan, where we were performing, and where Chandra fell seriously ill, she told me about a dream she had about dying in Tokyo. There was a real sense of fear in her voice, but it was nothing to do with death. It was the fear that she would die away from India, away from her house, her sea, her sky.
Ultimately, what Chandra left behind were these connections, these lines that moved from her centre and grew outward, encompassing the many lives she touched. She had the ability to fill your heart, to tear it out and restore it. And this is why I feel it in my chest now, not grief, because I've been preparing to say goodbye for some time now. It's more of an absence of what I haven't seen or felt yet, something like the lone and level sands of her beloved Ozymandias, boundless and bare, stretching far away — the vast desert of it that waits.
Printer friendly page
Send this article to Friends by E-Mail
---
---